Fees
Rentcharge 1
The Estate Rentcharge is a legally binding covenant that each and every subsequent residential property owner must complete before occupation. Estate Rentcharges are governed by the Rentcharges Act (1977). Estate Rentcharges are calculated across house types, with the formula as set out opposite: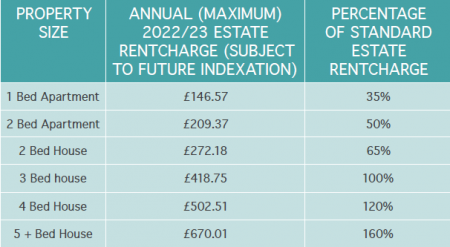 Rentcharge 2
The second rentcharge deed (described as the Estate's Covenants and Supplemental Rentcharge Deed) provides for the rentcharge
to be reviewed with effect from 1 April 2030. At this point the rentcharge could be increased by a maximum of 20%. This deed also sets out some additional obligations that the CMO will undertake. These are mainly concerned with the enforcement of estate restrictive covenants. These covenants are listed in the deed and contain provisions which all owners will be expected to comply with (such as only occupying their property as a residential dwelling, keeping the property in good repair, only to park in designated areas and for the management of refuse, etc). The estate covenants also contain limits on the height of planting and fences and other obstructions in gardens. We recommend that you study the estate covenants carefully.
Rentcharge 3
In addition to entering into these two rentcharge deeds, the owners of certain dwellings will also need to enter into a third rentcharge deed with the CMO. This rentcharge deed (known as the Additional Common Parts Rentcharge Deed) provides for an additional rentcharge to be paid to the CMO for maintenance of additional areas to which only certain residents have access. Typically, this will be communal driveways and parking areas in blocks of apartments. The sales pack will make it clear whether this additional rentcharge applies to the property that you are buying and if so how much that rentcharge will be. The charges are likely to range from between £20 to £120 per annum depending upon the size of the property and the additional maintenance services which it will benefit from.