Neighbourhood Watch Chilmington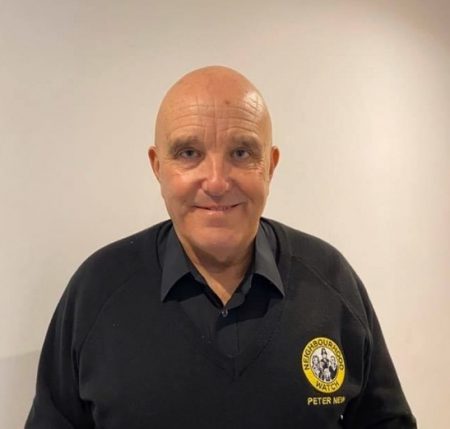 My name is Peter New.  I work in the community as a Police Volunteer and a member of the Neighbourhood Watch Team.  In my working life I served for 34 years with the Kent Fire Brigade and when I retired, I was Assistant Chief Officer Head of Operations for the whole County of Kent.  I use much of that experience in engaging with the community to try my best to keep you crime free, but just as important, free from the fear of being a victim of crime.
The Police have supported me to pilot a scheme on certain "New Build Sites" so that as the first residents move in, we get NHW off the ground and our Crime and Safety Prevention Plan grows with the development.
As the Chilmington development grows Neighbourhood Watch grows with it and the values I have set out below ensure it becomes a wonderful place to live and we keep everyone as safe and secure as we possibly can with good crime prevention and safety advice.
NEIGHBOURHOOD WATCH CHILMINGTON
"PREVENTION IS THE KEY TO THIS WORK" We can never ever quantify what we have prevented or indeed what we may prevent.
As always I set out the principles of Neighbourhood Watch:
An active Neighbourhood Watch Scheme, which is free to join, can:
Reduce crime and the opportunities for crime
Help and reassure those who live in fear of crime
Encourage neighbourliness and closer communities
Help improve the local environment.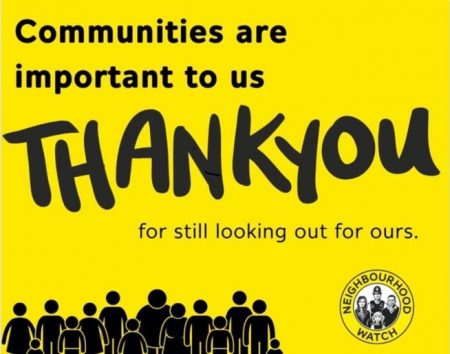 To deliver this crime and safety information I visit every new home and resident and register the property with a contact email as soon as possible after the resident(s) move in.
I have also set up a Facebook group NEIGHBOURHOOD WATCH CHILMINGTON which I ask residents to join if they are on Facebook.  That way I can deliver general advice to readers BUT I can also communicate a very targeted message direct into a property for the occupiers via their email.
The Facebook group allows all the occupiers of a property to be in touch with Neighbourhood Watch. It is absolutely essential that we also engage with younger members of the community who are just as vulnerable to the modern-day crimes especially with all the devices available even to the youngest of children.
CRIME PREVENTION
Coronavirus has thrown up many additional "business opportunities" for criminals and they have adapted to crimes and situations that lockdowns have brought about.
Scams, thefts of dogs, thefts of catalytic converters from cars, sheds, allotment sheds, garages, barns, stables, kennels, outbuildings and any form of external storage.
Thefts from vehicles and vans especially vans carrying equipment and tools stored in them overnight.
Thefts of deliveries from doorsteps, courier fraud, even the hijacking of delivery vans with parcels for Christmas.
Especially on new building developments where equipment and building supplies may be targeted along with "white goods" from newly completed properties but as yet not occupied.
Now as the lockdown starts to ease, and as the warmer weather returns, we need to be ready and ensure our prevention advice matches the intentions of the criminals.
SCAMS are with us on any subject 24 hours a day 7 days a week 365 days a year.
They will of course target our vulnerable members of the community especially, however the age range at risk now I would put as 10- to 100 year olds. It sounds dramatic but look at electronic devices and the ages that hold them now.
Best tip available DO NOTHING IN A RUSH and if still not sure DO NOTHING AT ALL. Help and advise the elderly and vulnerable with this crime and associated risks.
DOG THEFTS have seen a rapid spike across Kent, South East England and in fact the whole country.  Please be very alert and aware to this type of crime.
CATALYTIC CONVERTER THEFTS is another crime that has struck across the County.  The police have been running campaigns to help drivers avoid this crime.
THEFTS OF DELIVERIES This has seen a rise across the district where sadly COVID safe working has seen many parcels just left on doorsteps and many have been stolen.
SHEDS and GARAGES have become targets where criminals will operate especially under the cover of darkness.  Try to keep these buildings as secure as possible. Consider removing valuable items to a more secure location.
ANIMAL THEFTS During the lockdown horses, chickens, ferrets and even exotic birds have been stolen.  Please review your security if you are an owner.
BARNS and STABLES Rural areas can suffer crimes where expensive machinery and Horse Tack can be targeted.  Please be as secure as possible and alert to this risk.
VEHICLES As always these are a target of criminals.  It is essential that absolutely nothing is left in a vehicle on show when parked, especially when parked for the night.
COMMERCIAL VEHICLES and VANS with tools, please be extra alert and try to ensure you can park as safe and secure as possible.
GOING FORWARD
The response from residents has been warm friendly and uplifting.  A good community spirit is developing even during this most challenging and worrying year.
I have enjoyed some fantastic success working with the NHW members and some criminals now reside at HRH's pleasure due to the community working together.  NHW does not investigate crime it tries to prevent it from happening from lessons learned, sadly the experiences of victims of crime.  However, we can learn from those and protect so many more from becoming a victim.
If we can learn from crimes across the wider District and County and prevent them on Chilmington Green then we will have done our jobs.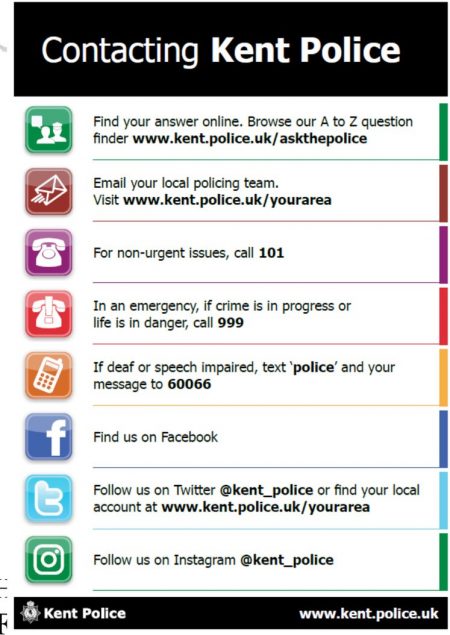 THE POLICE
Do not hesitate to call the police on 999 if a crime is in progress or about to be committed.
Call 101 to report non urgent crime or to give the police information and intelligence.
Use CRIMESTOPPERS on 0800 555 111 to give information to the police via this network.  It is completely anonymous and confidential.
REMEMBER THE POLICE ARE NOT CLAIRVOYANT……THEY MUST BE CALLED AND TOLD
On occasions there are circumstances where people may be too nervous or frightened to speak to the police directly on matters.  In that case use
CRIMESTOPPERS on 0800 555 111
You can give information to the police anonymously and in total confidence.
Please consider being another piece of the CRIME PREVENTION JIGSAW with Neighbourhood Watch.
Contact me on peternew1@aol.com to join NHW or to ask any questions REMEMBER IT'S ALL FREE !
Take care, stay safe, secure, alert and vigilant
NEVER FORGET
"THE MORE WE ARE THE STRONGER WE ARE, and CRIME CANNOT FLOURISH IN COMMUNITIES THAT CARE ".
Thank you all very much, I really appreciate all of your support
Peter
Peter New
Kent Police Volunteer & Neighbourhood Watch Team
Work in partnership with  Sales Teams on site has been essential and productive: